After a five-game run without a win, any victory comes as a confidence boost, but that was about all this was for Real Madrid ahead of Sunday's Clasico.
The European champions scraped past Viktoria Plzen 2-1 in the Champions League on Tuesday, keeping pace with Roma at the top of Group G, but the three points weren't enough to cover their cracks.
Winning for the first time in over a month was welcomed by supporters but the sight of the 13-time Champions League winners running the clock down in the final minutes against the visiting Czech minnows sums up their situation.
One positive for Madrid ahead of their trip to face Barcelona at Camp Nou was seeing Karim Benzema back on the scoresheet.
The French forward has been heavily criticised during an eight-game goalscoring drought, but his powerful header in the 11th minute broke the deadlock and eased tension at the Santiago Bernabeu.
This was no perfect performance from Benzema, though. At one point, he wasted a good opening with Gareth Bale ready to receive the ball, while he also messed up a late chip, sending the ball spinning out of play.
But at least Real are scoring again, as they head into the weekend clash at Camp Nou seventh in the Liga table and in desperate need of a victory to kick-start their miserable campaign.
A closer look at this victory, though, suggests their defensive deficiencies have not gone away.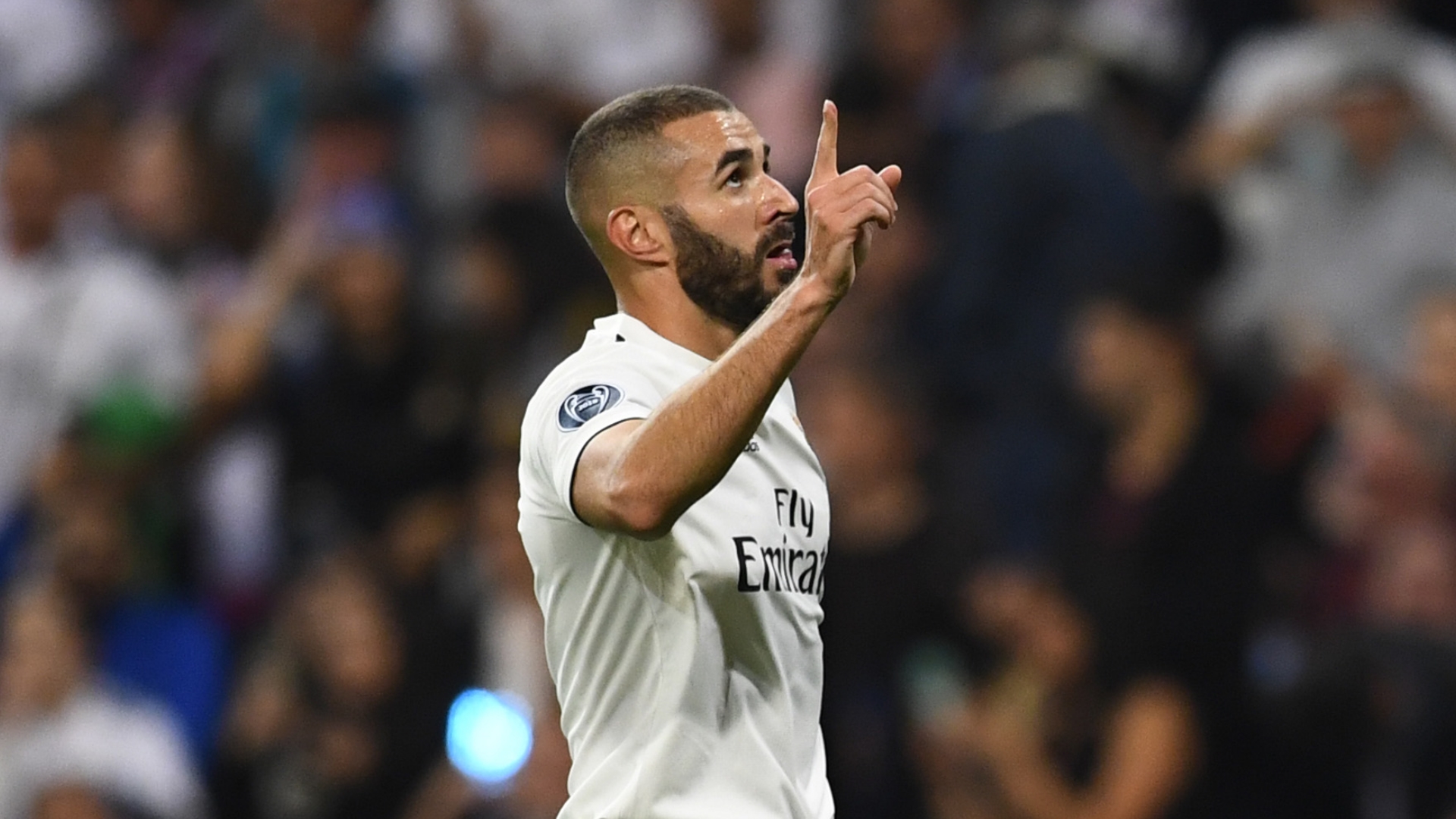 In the first half, the Czech champions sliced open Madrid's defence on three separate occasions and only poor finishing stopped them from beating Keylor Navas.
A lot of the danger came down Madrid's right flank, where under-fire coach Julen Lopetegui deployed Lucas Vazquez out of position at full-back.
The winger was caught out of position by Milan Petrzela, who was denied by Navas. Another run in behind Vazquez saw David Limbersky facing Navas but the Costa Rican put off the left-back, who fired wide.
And shortly before half-time came the best chance of the lot, with Patrik Hrosovsky somehow missing when it was easier to score. The forward, left with a tap-in inside the six-yard box, fired over the bar after taking his eye off the ball.
With just an ounce more composure, Viktoria Plzen might have gone in level and the boos would have reigned down at the Bernabeu.
The visitors started off the second half in similar fashion, with Ales Cermak volleying wide when left alone in the area, instead of controlling the ball and taking a safer shot.
Madrid were rocking but the man who ended their eight-hour run without scoring, Marcelo, popped up again to calm nerves in the Spanish capital, his dainty finish from Bale's flick tranquillising the game, until Hrosovsky made amends for his earlier miss with a late strike.
Madrid's bad luck with the woodwork continued too, with Sergio Ramos striking the post in the first half with a header, as he did against Levante in their defeat on Saturday.
Los Blancos have hit the woodwork 11 times in all competitions this season, implying their bad form at least contains a little bad luck.
However, Lopetegui still has plenty of work to do but very little time to work with
Indeed, he needs to sort out his defence by the weekend because Barcelona wouldn't just create chances against such a ragged Real, they'd take them too.
Recent Testimonials
I like it

The app has a lot of sports channels and quality is good!

Oh.my .God

Unbelievable working…you Just subscribed and tried for free

Excellent service

Excellent service , some English channels not the best but other European channels are brilliant all football always on

Live Sport channels

Sports and lots of other channels HD quality No bugs No spam Easy to change channels No credit card for trial —————————— 100% Recommended

Gbpsports

Perfect app to watch live channels in HD quality

No commitment and no credit card binding

The subscription is a new way which relying on a simple activation code, no commitment and no credit card binding. Live streaming is fast and clear.

Quality is Amazing

Just subscribed and tried, I gotta say the streaming quality is amazing! Very clear and no delay at all. I watched Man United match last Sunday, fatanstic video quality and I really enjoyed with my friend, great work and keep it up!

Plenty of stuff

Many thanks! Plenty of stuff.

I love the app

I love the app interface so simple and straight forward to use. The content is High Definition and finally the services are affordable.