While the likes of Jadon Sancho are looking to impress with England, Harry Redknapp claims it has become too easy to break into the Three Lions squad.
After several years of underachievement, Gareth Southgate has returned a sense of optimism to an inconsistent side on the back of their run to the semi-final stage at World Cup 2018.
He is looking to build on that success by introducing exciting youngsters into the senior fold, with Borussia Dortmund starlet Sancho joined in the current squad by the likes of James Maddison, Ben Chilwell, Mason Mount and Harry Winks.
England also have established stars such as Marcus Rashford, Trent Alexander-Arnold and Joe Gomez within their ranks who are all 21 years old or younger.
Offering them top level experience could be considered a positive thing in the early stages of their career, but former Tottenham boss Redknapp – who was heavily linked with the England job at various stages throughout his coaching career – believes caps are no longer as hard to come by as they once were.
He told talkSPORT: "It's good to stick the kids in, but they've got to be up to it, they've got to be playing regularly for their club.
"Years ago, you had to be a top, top player every week for your club to get in the England team.
"But now, you don't even have to be in your club team on a regular basis to play for your country.
"It's quite bizarre really how it's changed."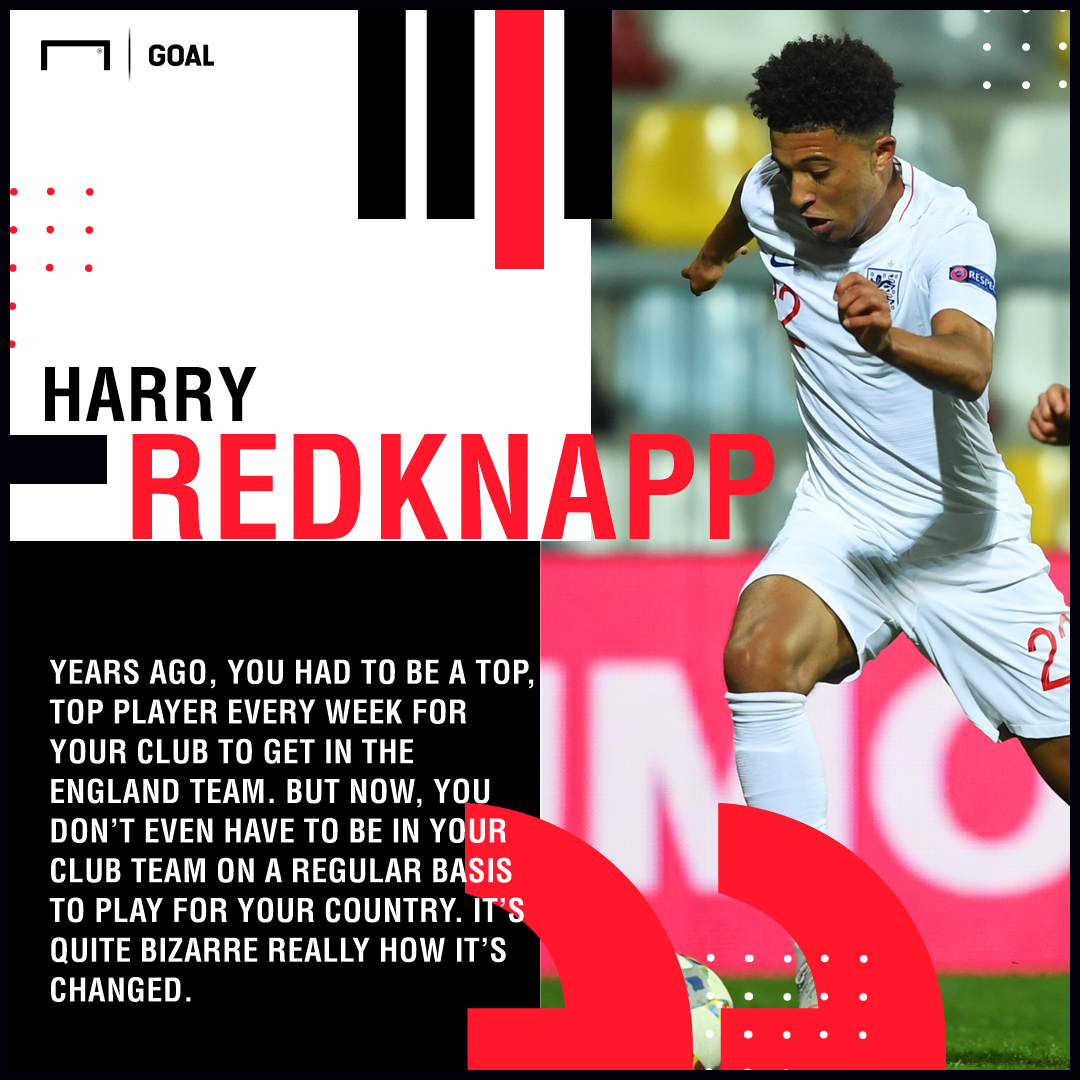 Redknapp added on a group of talent hoping to better the achievements of the so-called 'Golden Generation' that went before them: "I think that's a little bit of how it's gone – we keep getting players in the side who can't get in their club teams.
"These kids obviously have great futures but they've got to earn it, they've got to work their way up.
"I haven't seen enough of Sancho to be a real judge of him, but he came on the other night and he showed glimpses of real ability.
"It's good to see the kids coming in, but I think they've got to earn their spurs, they've got to get into their club teams and have a good run at the top club level and work their way into the England team from there.
"If you're English and you're good enough surely you've got to be able to get into your club team!"
Recent Testimonials
I like it

The app has a lot of sports channels and quality is good!

Oh.my .God

Unbelievable working…you Just subscribed and tried for free

Excellent service

Excellent service , some English channels not the best but other European channels are brilliant all football always on

Live Sport channels

Sports and lots of other channels HD quality No bugs No spam Easy to change channels No credit card for trial —————————— 100% Recommended

Gbpsports

Perfect app to watch live channels in HD quality

No commitment and no credit card binding

The subscription is a new way which relying on a simple activation code, no commitment and no credit card binding. Live streaming is fast and clear.

Quality is Amazing

Just subscribed and tried, I gotta say the streaming quality is amazing! Very clear and no delay at all. I watched Man United match last Sunday, fatanstic video quality and I really enjoyed with my friend, great work and keep it up!

Plenty of stuff

Many thanks! Plenty of stuff.

I love the app

I love the app interface so simple and straight forward to use. The content is High Definition and finally the services are affordable.