Iain Hume, roped in by FC Pune City for the fifth edition of the Indian Super League (ISL), ended up as the only unregistered foreigner in the squad.
The Canadian having suffered a serious knee injury in the second half of last season at Kerala Blasters. However, Pune City chose to sign him and seven other foreigners but left him out of the final squad for the ISL. 
Hume was expected to recover in a span of 12-14 weeks at the time of signing the deal with the Pune outfit in August. It is unclear who Pune City might drop in case they want to register Hume for the latter stages, but the former ATK forward has expressed his desire to contribute to the current side.
"My aim right now is to get fit. Honestly, I'm not looking past tomorrow's training. I'm confident in the team and I'm always going to be confident in myself. So if I can't get in the team because the strikers are scoring goals, I'm fine with that. 
"If I can get back in the team when I get fit and the strikers are scoring goals, and if I can contribute in any way, I'm sure it's going to help the team as well," he told GBP Sports .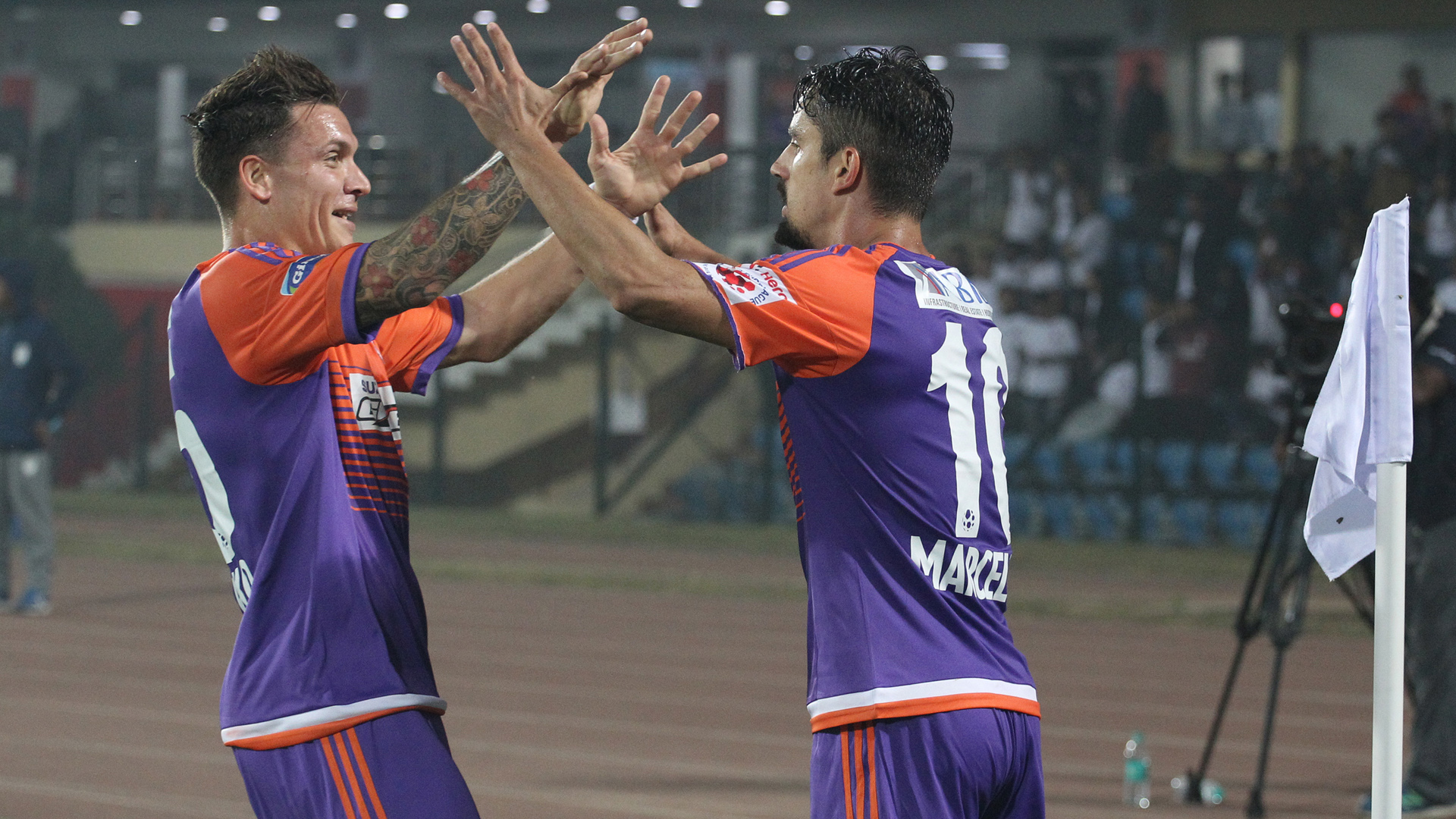 Hume has been impressed with his team-mates at FC Pune City and believes that the club has the right mixture of youth and experience. The former ATK striker also highlighted the importance of having a few experienced players in the squad.
"Marcelinho has been a great player in the ISL and so has (Emiliano) Alfaro. They have been two of the stand out strikers in the league along with myself," he continued.
"If I can join in with these guys, that will be great. Obviously, Marko Stankovic is still quite young (32). Matt Mills is 32-years-old. Jonathan Vila and Martin Diaz are both around 30 (32 and 30 respectively). Although people may say that we have old foreigners, we don't. 31 is not old all. If you say that, I must tell you that when I came over to Kerala Blasters in season one I was 30, I was old!
"At Pune, we have a very good mixture of youth and experience. We have the Indian players in our squad, most of whom are young. If you imagine bringing in five or six 22-year-old foreigners, who is going to lead? Honestly, this is the first time in my career that I am the oldest in the squad, which is scary," he confessed.
The former Leicester City player also had a piece of advice to share for the young overseas footballers looking to join the ISL bandwagon.
"The thing is that everyone will look at me and say 'he is an older foreigner'. I wasn't when I came here. I'm 34-years-old and I'm loving playing football. There shouldn't be any question until what draws me in. At the end of the day, I'm loving playing football. You get a lot of younger footballers who don't love it – they do it as a job because that's what they are good at. I'm the opposite. I'm decent at it but I've been successful because I love it. And I work harder for being successful.
"To anybody (foreigners) who wants to come here, don't come out here close-minded. If you're open to changes and you have a broad mindset, feel free. It's a great place to come and enjoy football. The fans are, for the most part, very enthusiastic and heartwarming. I have been fortunate to be in the two cities (Kerala and Kolkata) who are potentially the most football loving in the country, along with Goa.
"India is a baby in world football. It's learning, it's growing and progressing year in and year out. That's something I'm mentally proud of being involved in from the start of the ISL until now. Honestly, I'd love to see how far it will go in the next 10-or-15 years," he concluded.
Recent Testimonials
I like it

The app has a lot of sports channels and quality is good!

Oh.my .God

Unbelievable working…you Just subscribed and tried for free

Excellent service

Excellent service , some English channels not the best but other European channels are brilliant all football always on

Live Sport channels

Sports and lots of other channels HD quality No bugs No spam Easy to change channels No credit card for trial —————————— 100% Recommended

Gbpsports

Perfect app to watch live channels in HD quality

No commitment and no credit card binding

The subscription is a new way which relying on a simple activation code, no commitment and no credit card binding. Live streaming is fast and clear.

Quality is Amazing

Just subscribed and tried, I gotta say the streaming quality is amazing! Very clear and no delay at all. I watched Man United match last Sunday, fatanstic video quality and I really enjoyed with my friend, great work and keep it up!

Plenty of stuff

Many thanks! Plenty of stuff.

I love the app

I love the app interface so simple and straight forward to use. The content is High Definition and finally the services are affordable.