Japan maintained their status as one of the top footballing nations in Asia as they repeated their effort from two years ago in reaching the FIFA U17 World Cup finals after edging Oman 2-1 in the first quarterfinal played in the 2018 AFC U16 Championship.
There were far less crowd in attendance compared to when Japan last step onto the field against Malaysia and even with Oman offering more resistance than the host, the young Samurai Blues still proved themselves to be worthy winners.
In a team that very much resemble the side that Japan put out during the recent 2018 FIFA World Cup in Russia, throughout the spine of the team are players that mirrors their more illustrious seniors.
Riku Handa is the calm collective centre back not unlike Maya Yoshida, right back Koshiro Sumi is stocky but blessed with pace and incredibly technical like Yuto Nagatomo and Kakeru Yamauchi is the strong combative figure in the centre of midfield like Makoto Hasebe.
But it is at the focal point of Japan's attack where the similarity diverged somewhat. In Jun Nishikawa, this Japan U16 side does not have someone who is similar to a Shinji Okazaki or Yoshinori Muto. In many ways, the left footer can be seen remarkably like having a Shunsuke Nakamura as the main striker.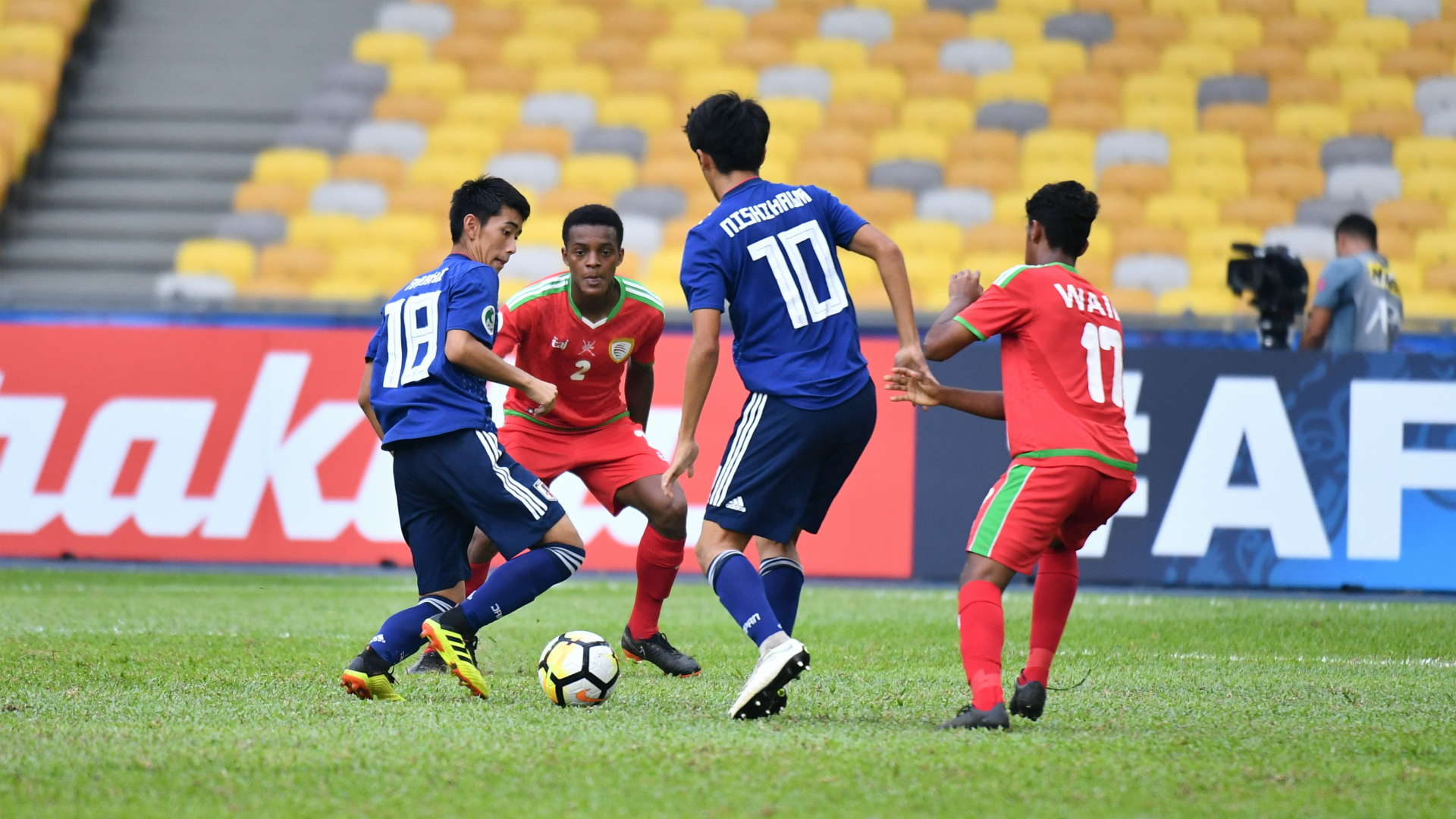 At 1.83m, Nishikawa towers above everyone else on the pitch at this level. The 16-year-old who plays for Toko-Gakuen High School is an unassuming figure on the pitch. Tall and languid, it is his intelligence movement and his ability to use his left foot like a wand that makes him stand out.
It was Nishikawa's run in the 14th minute that set up the opening goal of the match for favourites Japan. He was through on shot and shot past Mitham Ali in Oman's goal, and even though it was Issa Khalfan's decisive touch that eventually sent the ball into the net, Japan's number 10 played a pivotal part in the goal.
Oman, who finished second in Group B behind DPR Korea to reach the quarterfinals did well to stay in the match and even found the equaliser through Tariq Khamis' header in the 22nd minute to take the game into half time on level pegging.
In the second half, Nishikawa was asked to sit behind substitute Shoji Toyama as Japan went for broke and the former did not even look out of place in the creative role. Numerous times Mitham was called into action and the Omani keeper stood tall to deny at least three good one-on-one chances for Japan.
With time running out and the clock showing 81 minutes, Nishikawa rightfully take his place as the man of the match when he collected a pass from Ryuma Nakano on the left hand side. A quick turn left Rashid Balushi for dead and the subsequent low sharp cross was on a  plate for Toyoma to hit home the winner.
Japan now will now await the winners between Indonesia and Australia as they search for their first title in the competition since 2006 while Oman was left to reflect on what can be only be considered a successful tournament that they last won in 2000.
Follow Goal Malaysia on Instagram
 

View this post on Instagram

 

Manchester City are ready to make a stunning £200 million bid for PSG star Kylian Mbappe, according to reports 👀 Thoughts?
Recent Testimonials
I like it

The app has a lot of sports channels and quality is good!

Oh.my .God

Unbelievable working…you Just subscribed and tried for free

Excellent service

Excellent service , some English channels not the best but other European channels are brilliant all football always on

Live Sport channels

Sports and lots of other channels HD quality No bugs No spam Easy to change channels No credit card for trial —————————— 100% Recommended

Gbpsports

Perfect app to watch live channels in HD quality

No commitment and no credit card binding

The subscription is a new way which relying on a simple activation code, no commitment and no credit card binding. Live streaming is fast and clear.

Quality is Amazing

Just subscribed and tried, I gotta say the streaming quality is amazing! Very clear and no delay at all. I watched Man United match last Sunday, fatanstic video quality and I really enjoyed with my friend, great work and keep it up!

Plenty of stuff

Many thanks! Plenty of stuff.

I love the app

I love the app interface so simple and straight forward to use. The content is High Definition and finally the services are affordable.