The Indian national men's U16 team came out unscathed out of Group C of the 2018 AFC U16 Championship in Malaysia. A goalless stalemate against Indonesia, their second of the tournament was enough to see them finish behind the South-East Asian nation in the group and enter the quarterfinals.
Head coach Bibiano Fernandes remained elated after his side became the first Indian side to qualify from the group stages since 2002. "This is really special because we have qualified (for the next round) after 16 years. It's not just me. I would like to thank my staff, people who are back home in the administration who are working tirelessly and doing the job well.
"I would like to thank the coaches back home at the grassroots level who had done a good job with these boys and then they joined us when they turned fourteen. Congratulations to each one of us in India who are working in the grassroots communities, schools and societies, who've worked hard every day," he said after the game.
The Goan-born then explained the strategy by which he contained Indonesia. He revealed, "In the first fifteen to twenty minutes in the first half, we decided that we would sit back and not give the opponent any chance behind the defenders because that is where they use the space for long balls. We sat back and suddenly surprised them with high pressing. We kept our doors shut in the first half and did well. 
"In the second half, we played the same game, which we like to do and we have been doing throughout our preparation, which is pressing. At the same time, keep the door locked behind. We had our chances and we could have scored but glad it ended in a draw."
Simultaneously, Iran and were playing Vietnam and a win for either side and a loss for India would have meant Fernandes' boys would have to return home early. Although that was not the case, in the end, Fernandes did keep an eye on the other game.
"Yes, I got the news they were leading 3-0 in the first half. I did not tell the boys anything about that because that could have put them under pressure. We just had to go out in the second half and fight till the 90th minute. I heard they won 5-0, thank God we have qualified.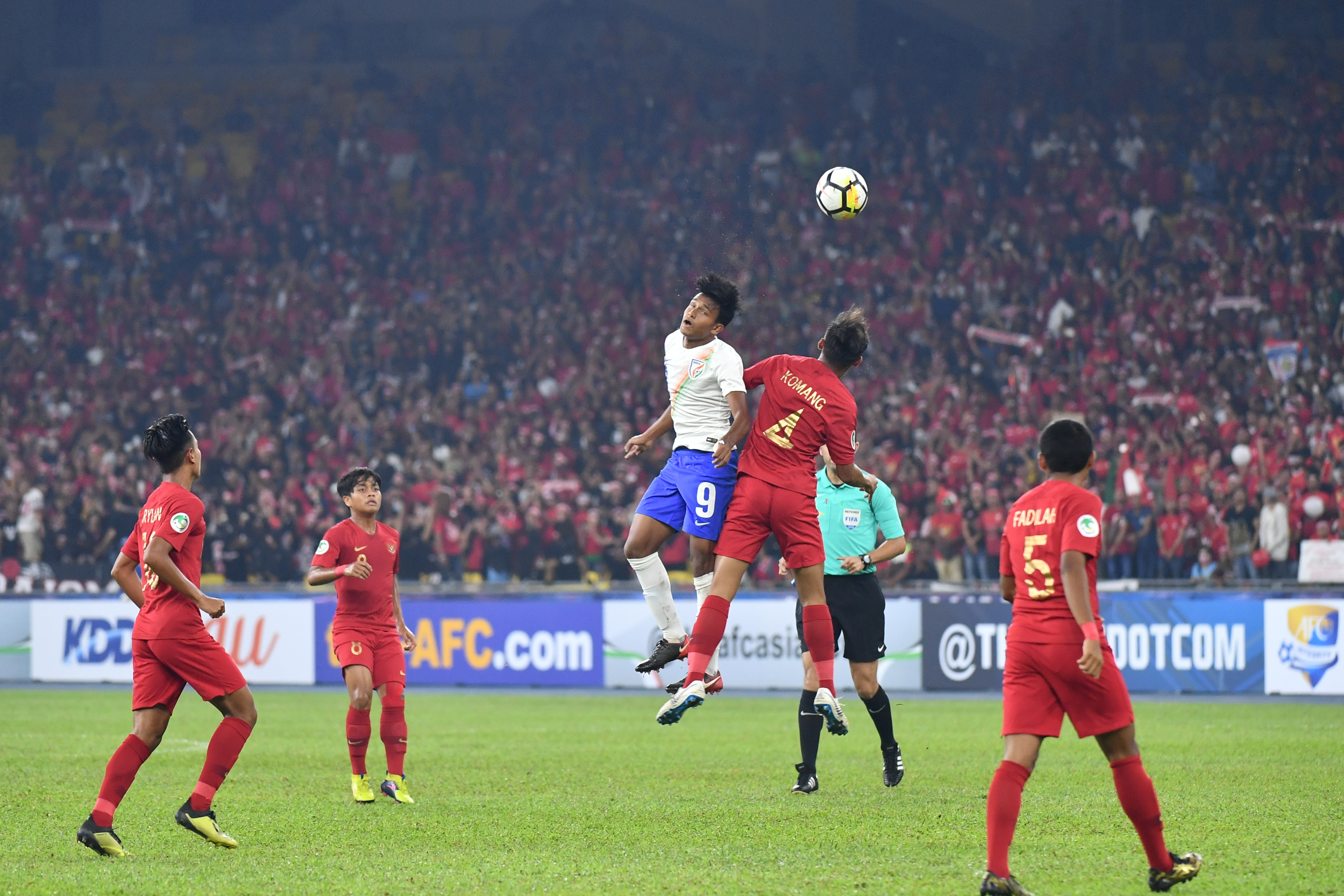 India are most likely to face the Korea Republic in their quarter-final tie. However, Australia and Iraq are tied at second spot with three points each with South Korea leading Group D with six with a round of matches to go.
"Three days to go. We will think about it. I have seen Korea and Australia play but we will look into Korea. Very strong team and a team that can win the AFC U16 Championship this year.
"We have got boys that can give hundred per cent on that day and you never know, it is a knockout game. On a given day, anything is possible," commented Fernandes on the ensuing game.
Fernandes was all praise for Indonesia who had previously beaten previous edition's finalist Iran 3-0 in their first group game and stated that he would not like to face the junior Tim Garudas again.
"Indonesia is so amazing. When they are attacking, they look so swift and is so difficult to stop them. I feel they have good players in attack, (Amiruddin) Bagus and (Sultan) Zico, who is a clinical finisher. (Mochammad) Supriadi is too fast and it is difficult to catch him. We got so many cards because of him. We tried our best.
"No, I don't want to meet Indonesia (laughs). We will get more cards, maybe a red too. They are too fast. We had our plans for Bagus and Supriadi, we tried to double team over them, every time they got the ball but still, they were getting out from there. They look so easy in attack, when they play one-touch passes and penetrate defences so easily," he concluded.
Recent Testimonials
I like it

The app has a lot of sports channels and quality is good!

Oh.my .God

Unbelievable working…you Just subscribed and tried for free

Excellent service

Excellent service , some English channels not the best but other European channels are brilliant all football always on

Live Sport channels

Sports and lots of other channels HD quality No bugs No spam Easy to change channels No credit card for trial —————————— 100% Recommended

Gbpsports

Perfect app to watch live channels in HD quality

No commitment and no credit card binding

The subscription is a new way which relying on a simple activation code, no commitment and no credit card binding. Live streaming is fast and clear.

Quality is Amazing

Just subscribed and tried, I gotta say the streaming quality is amazing! Very clear and no delay at all. I watched Man United match last Sunday, fatanstic video quality and I really enjoyed with my friend, great work and keep it up!

Plenty of stuff

Many thanks! Plenty of stuff.

I love the app

I love the app interface so simple and straight forward to use. The content is High Definition and finally the services are affordable.