Cesc Fabregas claims it was "easy" for Chelsea to fend off interest in Eden Hazard during the last transfer window, but concedes a lack of fresh terms is set to make that battle considerably tougher.
Having starred for the Blues throughout his time in England, the Belgium international is now considered to occupy a talent bracket at the very top of the game.
Such a standing has unsurprisingly seen him register on the radar of leading sides across Europe, with Real Madrid having been heavily linked with a big-money move for some time.
Chelsea were able to see off that speculation over the summer, but they are yet to extend a contract due to expire in 2020 and have been warned that they will struggle to retain a prized asset without a new deal being done.
"It was an easy decision, especially now, because at this stage how much can Eden cost? Not many teams in the world can buy Eden Hazard. He still had two years left on his contract," Fabregas told the Evening Standard of his Stamford Bridge team-mate.
"Next year if he has one year left, that's a different story. You don't have as much power as a club. Eden is one of the best players in the world. 
"But having two years left, especially how the market is, it's basically impossible to sign him up. I don't think it was that hard from the club."
Hazard was at his sparkling best once again on Wednesday evening as he netted a stunning late winner to help Chelsea come from behind to see off Liverpool 2-1 in the Carabao Cup.
"I have had some great moments with Eden on the pitch but maybe in terms of maturity, yes it is the best [form of his career]," added Fabregas.
"He has always had the ability but he is at an age now where he feels he can be more dangerous. He knows when to pass more, when to dribble. 
"His maturity has improved a lot and now he is scoring goals, decisive goals, which we all wanted from him. 
"When you see the top players, this is what they do. They make a difference in terms of scoring goals. I think he needed that to make the step forward and at the moment he is doing that so hopefully he can keep it up."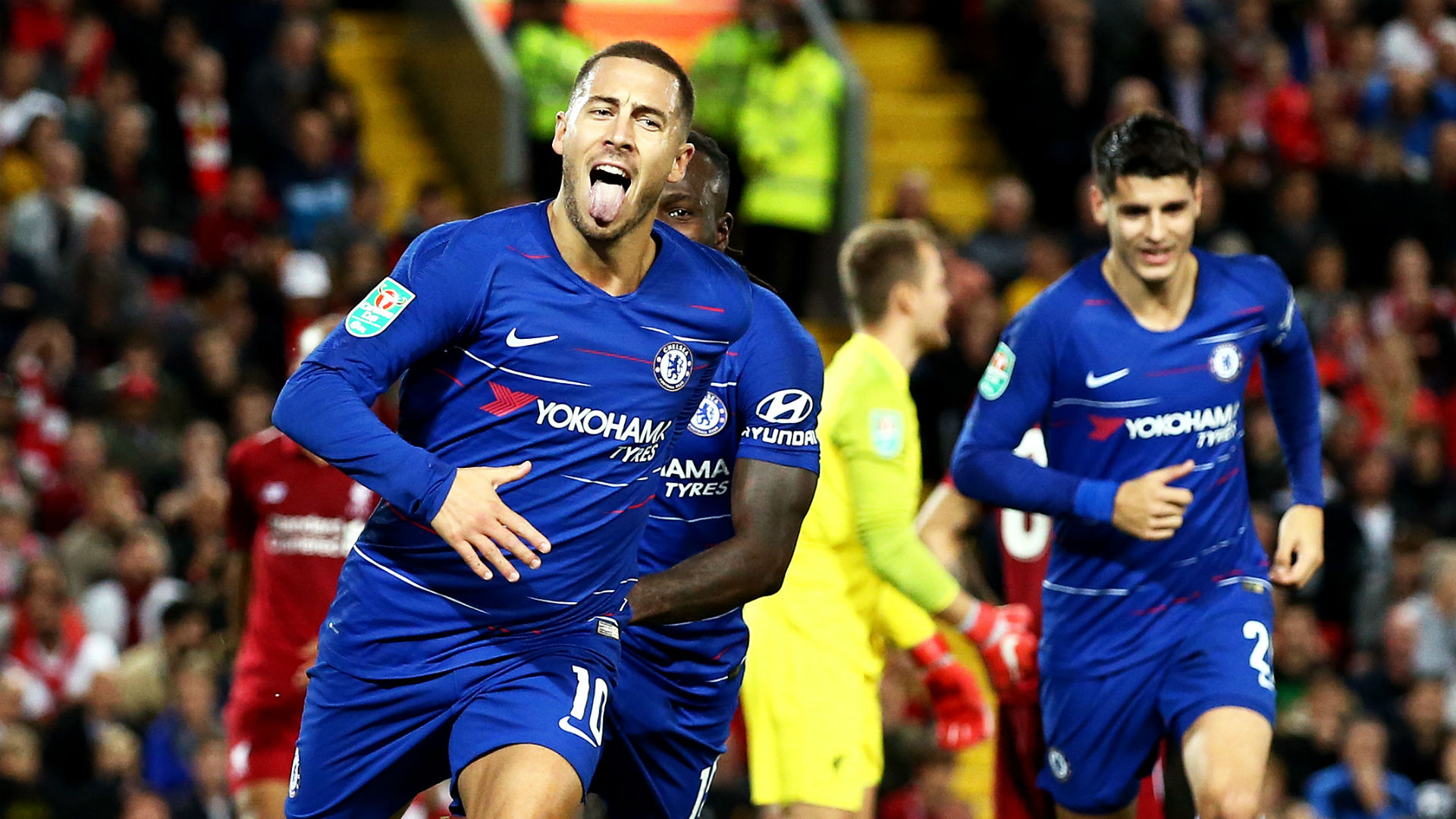 Fabregas is not the only Chelsea star to have been impressed by Hazard's form this season, with Ross Barkley of the opinion that the Belgian forward could be considered the finest player on the planet at present.
He told reporters after a memorable win at Anfield: "He's one of the best players in the world and he shows it.
"He's been showing it for the last five or six years and he is establishing himself in the top three players in the world. At the minute, he's probably the best player in the world, the way he is playing."
Pressed further on whether Hazard can be placed above Lionel Messi and Cristiano Ronaldo, Barkley added: "Of course. They are probably a lot more selfish than Eden is. He is not a selfish player. He is happy getting two assists and the team winning. He is adding goals and he keeps improving … At the minute, he is the best player in the world, I believe.
"He is capable of producing magic at any moment in the game. He keeps defenders on the back foot and sometimes you see him attracting two or three players and that creates space for others, like myself, our other wingers and the strikers. When he gets closed down, he opens up space for others."
Recent Testimonials
I like it

The app has a lot of sports channels and quality is good!

Oh.my .God

Unbelievable working…you Just subscribed and tried for free

Excellent service

Excellent service , some English channels not the best but other European channels are brilliant all football always on

Live Sport channels

Sports and lots of other channels HD quality No bugs No spam Easy to change channels No credit card for trial —————————— 100% Recommended

Gbpsports

Perfect app to watch live channels in HD quality

No commitment and no credit card binding

The subscription is a new way which relying on a simple activation code, no commitment and no credit card binding. Live streaming is fast and clear.

Quality is Amazing

Just subscribed and tried, I gotta say the streaming quality is amazing! Very clear and no delay at all. I watched Man United match last Sunday, fatanstic video quality and I really enjoyed with my friend, great work and keep it up!

Plenty of stuff

Many thanks! Plenty of stuff.

I love the app

I love the app interface so simple and straight forward to use. The content is High Definition and finally the services are affordable.