Jose Mourinho has told Paul Pogba that he will never captain Manchester United again, further straining the relationship between the manager and his star player.
Pogba laid on a spectacular assist for Fred's opener in the 1-1 draw against Wolves at Old Trafford on Saturday but was later dispossessed by Ruben Neves in the build-up to Joao Moutinho's equaliser.
Mourinho later slammed the attitude of his players in his post-match press conference, saying: "That's a basic law of football, you have to play with the maximum of your potential, with the maximum of your focus.
"Unless you are playing in such a weak league where you play against really weak opponents and then playing 20 per cent of potential is enough to win. That's not the case, and we all know that."
Pogba later told reporters that United ought to be playing a more attacking style at Old Trafford, seemingly questioning Mourinho's tactics.
"We are at home and we should play much better against Wolves. We are here to attack," said the 25-year-old. "When we play like this it's easier for us.
"I think teams are scared when they see Manchester United attacking and attacking. That was our mistake.
"Maybe the attitude should be better and we should play better because, again, we are at Old Trafford and we should just attack and press like we did against Tottenham, Liverpool, Chelsea and Arsenal last season."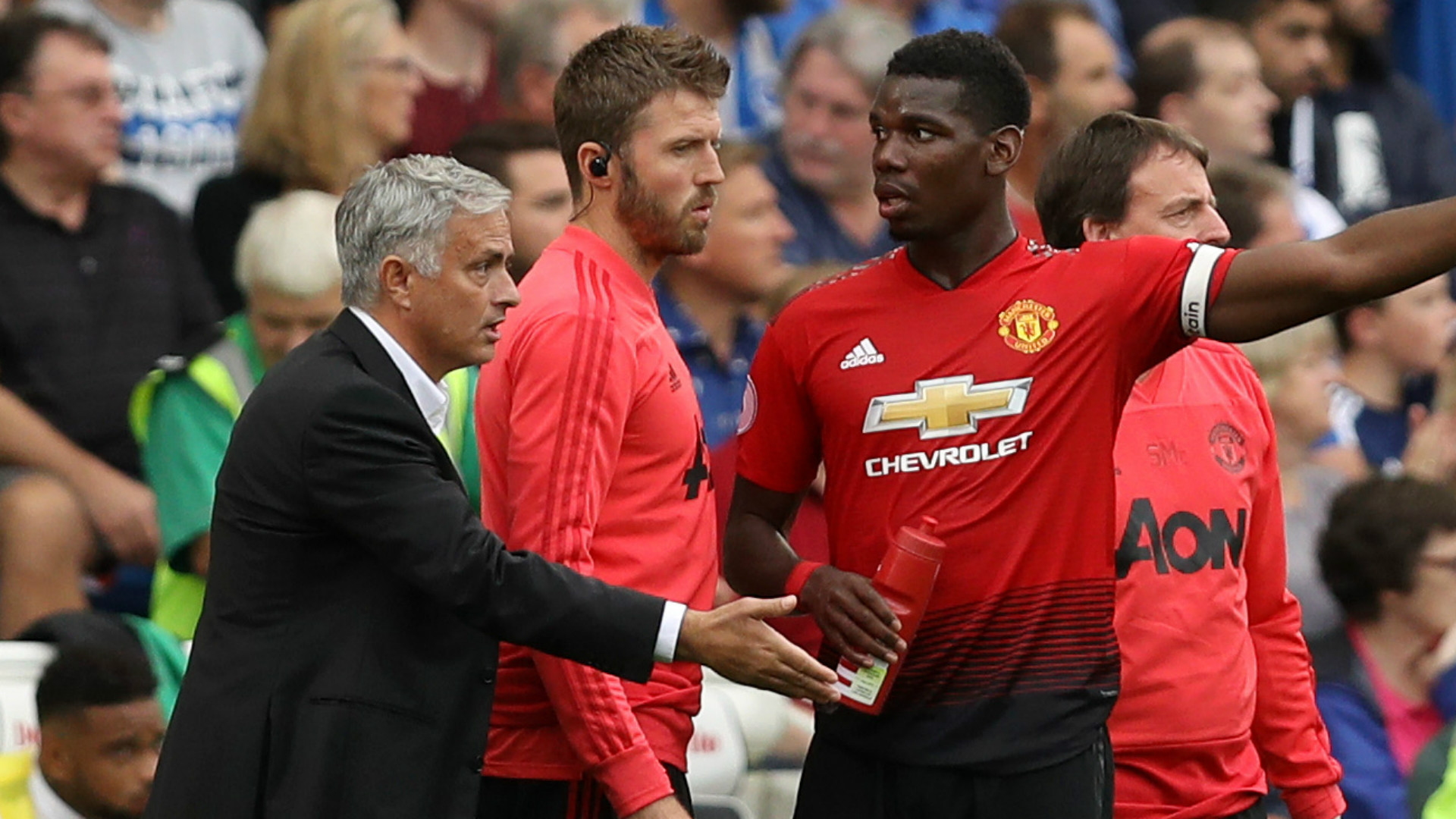 Mourinho's response, as per reports on Tuesday, was to launch a tirade at Pogba on the training ground in front of the rest of the first-team squad during which he told the Frenchman that he will never captain United again under his watch.
Pogba has served as the vice-captain so far this term, leading the team out against Leicester City, Brighton and Young Boys in the absence of regular skipper Antonio Valencia.
The manager reportedly told the midfielder that he doesn't have the correct temperament to be a Manchester United skipper, leaving the left of the players under no doubt that Mourinho considers no one person to be bigger than the club.
This is just the latest in a string of issues between the two stretching back to the spring when Pogba was first dropped from Mourinho's starting XI ahead of the Champions League trip to Sevilla.
Pogba was among a number of players left out of the squad for Tuesday's Carabao Cup home fixture against Derby County, with a total of nine rested and only Jesse Lingard and Romelu Lukaku retained.
Recent Testimonials
I like it

The app has a lot of sports channels and quality is good!

Oh.my .God

Unbelievable working…you Just subscribed and tried for free

Excellent service

Excellent service , some English channels not the best but other European channels are brilliant all football always on

Live Sport channels

Sports and lots of other channels HD quality No bugs No spam Easy to change channels No credit card for trial —————————— 100% Recommended

Gbpsports

Perfect app to watch live channels in HD quality

No commitment and no credit card binding

The subscription is a new way which relying on a simple activation code, no commitment and no credit card binding. Live streaming is fast and clear.

Quality is Amazing

Just subscribed and tried, I gotta say the streaming quality is amazing! Very clear and no delay at all. I watched Man United match last Sunday, fatanstic video quality and I really enjoyed with my friend, great work and keep it up!

Plenty of stuff

Many thanks! Plenty of stuff.

I love the app

I love the app interface so simple and straight forward to use. The content is High Definition and finally the services are affordable.